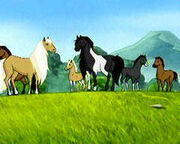 Aztec meets these horses when he runs away from Horseland. The two that are identified by name are Chaco, a black herd stallion who doesn't want Aztec on its territory, and Mesa, a palomino colt that befriends Aztec. Other horses in the herd are a pair of bays, Mesa's palomino mother, and a piebald tobiano mare. They all have plain manes and tails. A horse named Puma tells Aztec what being a wild horse is like. After Aztec saves Mesa from a grizzly, Chaco insists that Aztec join his herd but Aztec refuses to stay and instead returns to Horseland.
Wild horses have no color highlights or wavy mane and tail (except Puma) that domesticated horses have, it is possible that humans have genetically modified the horses to be born with color highlights and wavy manes and tails.
It never appears tame horses that have been wild horses that do not have color highlights.
Wild horses actually exist in real life.